When searching for a Kenosha, Pleasant Prairie, Winthrop Harbor or Racine dentist, look no further! Drs. Aust and our team of friendly dental professionals can rejuvenate your smile and provide the pain-free care you deserve. Our new Kenosha facility is a full service dental practice that offers cosmetic, restorative, and general dentistry. Come and see our state-of-the art facility will cater to your every dental need.
Upon your arrival, a dentist will personally address your concerns about dentistry and your smile goals.
Call 262-444-5018 For an Appointment Today!
From your first call to our Kenosha dentist office, we will treat you as a unique individual who deserves the best clinical care and personalized service available.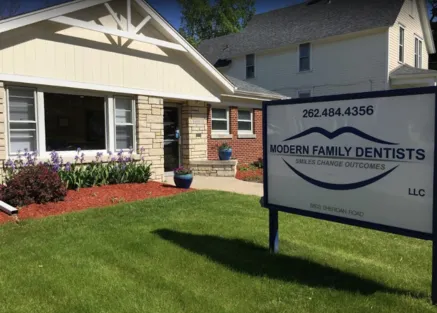 When you visit Modern Family Dentists you will experience dentistry designed to make you smile. We will do everything possible to make your dental visits rewarding and comfortable.
Insurance is filed for you, financing is available, and most major credit cards are welcome. No insurance? No Problem! We have an in house benefits program that makes dentistry affordable for you and your family.
Thank you for visiting our website. Feel free to call us at 262-444-5018 or email us at [email protected] if you have any questions. We look forward to serving you and your family.